LOUISVILLE, Ky. (WDRB) — Jefferson County Public Schools has paid thousands of dollars to certified teachers who let the district know they planned to retire after the 2021-22 school year.
Records obtained by WDRB News show JCPS paid recent retirees $20,000 in June and July through the $500 incentives. August payments were not immediately available through JCPS.
The $500 incentives, approved by the Jefferson County Board of Education in June 2021 and ratified by the Jefferson County Teachers Association, are meant to give JCPS a better understanding of teaching vacancies after school years.
District teachers must file paperwork by Jan. 30 indicating whether they plan to retire of June 1, July 1 or Aug. 1 that year to qualify for the $500 payment.
"Any time you can find out ahead of time, that's going to be helpful," said Aimee Green-Webb, chief of human resources for JCPS.
Green-Webb called the retirement notification incentives "an investment" that gives principals time to plan for vacancies and recruit prospective hires for those roles before the next school year.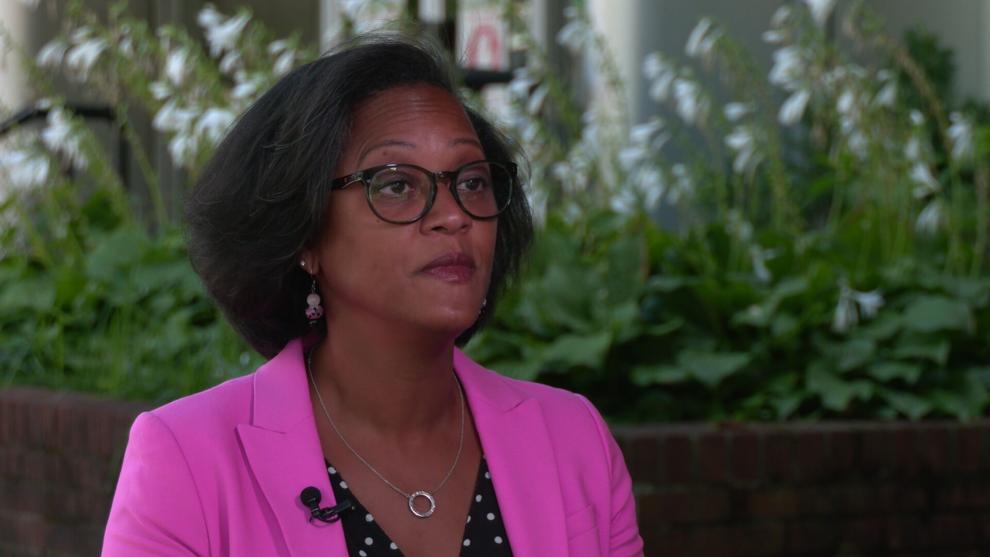 "At this point, you're talking about 40 teachers that we knew of for June and July. So that is a good use of money," she said. "If you think about trying to pull in a recruiting class of 40 teachers, that's a huge number. So to be able to staff 40 positions in advance of the heavy recruitment season is certainly a big difference-maker.
"That's time and money and resources that are spent on finding 40 people that you would not have known about very late in the recruitment season."
Jo McKim, who worked as a deeper learning resource teacher, is among those who gave notice of their retirement and collected the extra $500 from JCPS. Although she filed paperwork maintaining her eligibility for the incentive in January, she said she ultimately decided in June to formally retire.
"I had been thinking all along that somewhere after 2018, I would retire," McKim said. "And every single year since then, I have thought about, 'Is this the year?'"
The retirement notification incentive did not factor in her decision to retire from JCPS, she said.
"I don't really think it played any way into my decision to retire or not to retire," McKim said. "I think a bigger incentive for me was a year ago when they offered the $5,000 stipend to thank you for having stayed through COVID and doing all that work. But you had to stay the next year to get it throughout the year.
"That was the bigger incentive. $5,000 a year is a pretty huge increase compared to, 'We'll give you $500 if you let us know you're going to retire early.' That's really not much incentive."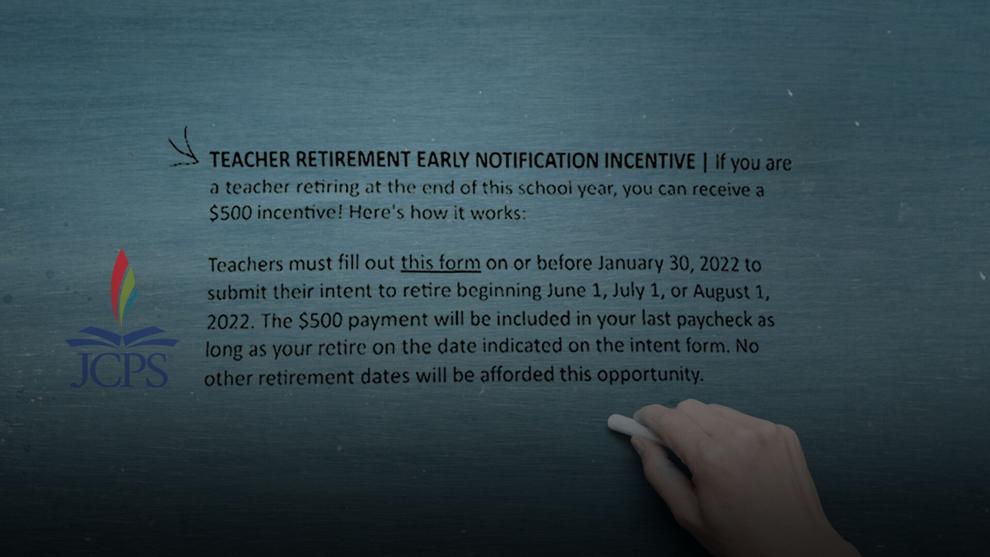 The memorandum of agreement between the JCPS board and JCTA that included the $500 retirement notification incentive also laid out COVID-19 incentives totaling $5,000 from federal stimulus funds throughout the 2021-22 school year.
Full- and part-time staff with active contracts on July 1, 2021, and were paid at least one contract day by Aug. 20, 2021, earned $2,500, according to the agreement. Payments worth $1,250 each were paid to full- and part-time staff if they were actively employed as of Nov. 12, 2021, and May 6, 2022, the agreement says.
A second series of continuity stipends worth $1,000 collectively were approved by the JCPS board on June 7. Full- and part-time employees were paid $500 if they were active staff as of Nov. 11 and May 12, according to the agreement.
"They really have different purposes and have different advantages," Green-Webb said of the retirement notification and continuity bonuses.
McKim said she hoped to see the $500 retirement notification incentive put back into teacher salaries or toward support programs for new educators.
"We've pushed all the district support people like myself out into buildings to fill those vacancies, which means where we have hired hundreds of new teachers in this district, there's now no one at the district level to go in their classrooms and give them that mentoring and support that they need," McKim said. "… We don't have a support system for new hires, and I think that would be a better use of the money."
JCPS had 182 certified teaching openings posted on its employment website as of Wednesday afternoon.
"There are people who are leaving for a lot of reasons, but I don't personally think this is the mass exodus from education as much as it is a lack of a supply chain of new teachers out…


Read More: JCPS spending $20,000 and counting on incentive for advance notice of teacher

2022-09-22 04:32:51